HS Fall Sports/Activities begin Monday, Aug 8. Practice time are below: Football - 6:00-9:00 am (practice @ H-C) Softball - 6:30-8:00 am (weights to follow) Cross Country - 8:15-9:45 am Cheer (MS included) - 8:30-10:00 am - practice @ Norborne M/W/F, @ H-C T/TH (cheerleaders, please be at H-C by 8:15) Band (MS included) - 10:00 am - 12:00 pm

Reminder that all students need their "informed consent" document signed by their parent/guardian for the free physical day tomorrow. They will also need their MSHSAA physical form. We will have both available tomorrow as well for anyone that may have misplaced them. Physicals will be from 9-2 tomorrow, 8/1.

Also, physicals will be required for any student that is a member of the band. This is a new Bi-Law put forth by MSHSAA. A physical evaluation will be good for both sports and band. *If a student is ONLY in band and not sports, they are still required to have a physical on file.

Reminder that we will be offering FREE PHYSICALS next Monday, Aug. 1st from 9-2 in the gym. Please be sure you have all proper forms. If you need a form, please stop by the HS office.

Reminder of Camps this week: HS Football 6-9 am (M-TH), @ H-C, Archie Camp Fri. MS Football 8-10 am (M-TH), @ H-C MS Softball 6-8 pm (M-F), @ Norborne, van leaves at 5:30 pm NO HS Softball Camp.

HS Softball Camp scheduled for next week, 7/25-7/29 had been cancelled.

Football Camp for both MS & HS is next week, 7/25-7/28. HS times are 6-9 a.m. and MS times are 8-10 a.m. Camp will be at H-C.

MS Softball will have a pitchers/catchers camp on Thursday, July 21 at 6:00 in Norborne. The van will leave H-C at 5:30. This will be for any MS softball player that plays pitcher or catcher.

HS Football Open Field has been cancelled for renaming of the summer. (July 14 & 21) Instead, HS FB Skills players will be attending 5v5 in Sweet Springs on July 18 from 6-7:30. Bus will leave H-C at 4:30.

Come join our team!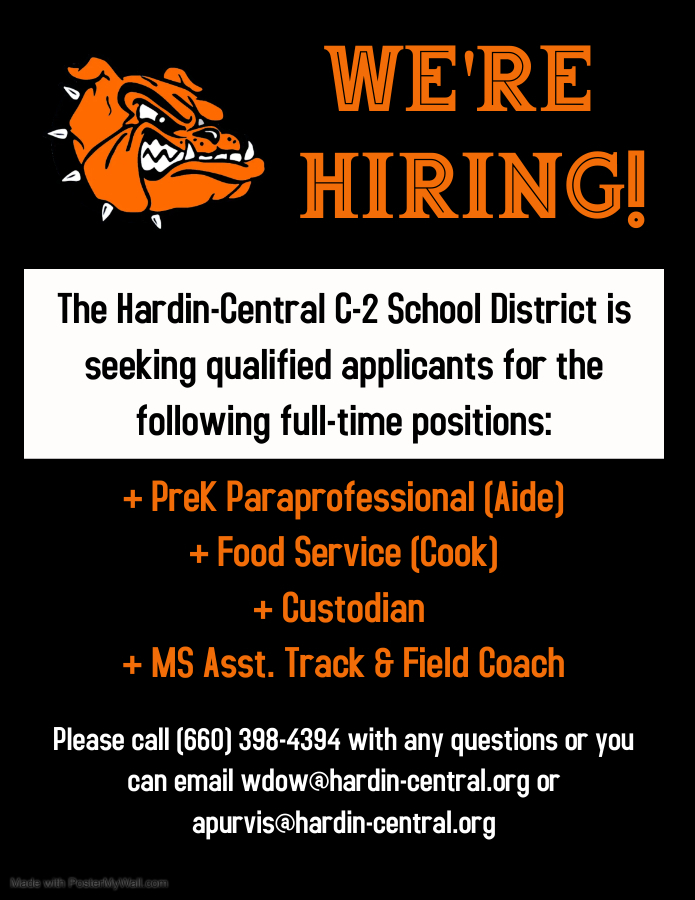 Reminder that MS Basketball Skills Camp for boys and girls will be next week, July 11-14th from 10-11 am. It will be for all students entering grades 5-8.

Upcoming Softball Camps: 🥎 HS: 7/11-7/15 from 6:30-8:00 am 🥎 MS: 7/25-7/29 from 6:00-8:00 pm in Norborne. Van will leave at 5:30 each night.

Please remember we will be offering FREE PHYSICALS on August 1st from 9:00 am - 2:00 pm in the Gym. Please bring release from and physical form that was sent home with grade cards. If you need a form, please come by HS office.

Little Aggies Elementary Football Camp will be the next three nights (Tues-Thurs) 6/28-6/30 from 6-7 pm. The Camp with be for students in grades k-5 and will be held in Norborne.

Reminder that there will only be 1 Strength & Conditioning time schedule this week. We will go 7:00-8:30 am Mon-Thurs this week. Also, "dead week" for all athletics is July 2-10.

We will have only (1) Strength & Conditioning session next week, 6/27-6/30. The time will be 7:00-8:30 am and it will be for all students MS/HS.

Reminder that HS Softball Camp is next week, 6/20-6/24 from 6:30-8:00 am.

Attention! The 22-23 sports/activities schedules (with bus times) have been posted to the "H-C Bulldogs" App! Once you open the App, click "Menu" then click "Events" to see dates and times. *Please note... all sports/activities dates, times, bus times, etc. are subject to change.

Reminder that MS Boys Basketball Camp will be Mon-Thurs this week (6/13-6/16) from 10-12.

Elementary summer school is going to the Kansas City Aquarium tomorrow, Friday, June 10th. The field trip will extend our summer school day until 2:00. You may pick up your child(ren) at 2:00 in the back parking lot.