Reminder that today is the last day of school! We will dismiss at 12:41. Also, MS/HS students will be sent home with their Grade Card & sports physical form/consent form for our FREE physical day on Aug 1 from 9-2 in the gym.

Tomorrow is the last day of school for the Summer. Early release will be at 12:41. Have a great Summer!

Elementary summer school will be starting Monday, May 23rd. If you haven't already, please call the elementary office to sign up your child for summer classes.

All MS/HS students grades 7-11 will turn in Chromebooks and chargers tomorrow morning. Students, please be sure you have both to turn in.

If you are planning to help with Field Day tomorrow, meet in the gym at 8:30. All scheduled events begin at 9:00. Schedule of events can be picked up at the elementary office.

The elementary basketball camps will be held during summer school this year. The dates are May 24th-26th. Kindergarten-2nd grade will be 10:00-11:00, and 3rd-5th grade will be 11:00-12:00. The cost is $20 per student. We are excited to see you there.

Elementary Field Day is scheduled for this Friday. Parents are invited to come and watch the students participate in the fun. If it rains, the event will be rescheduled for Monday, May 16th.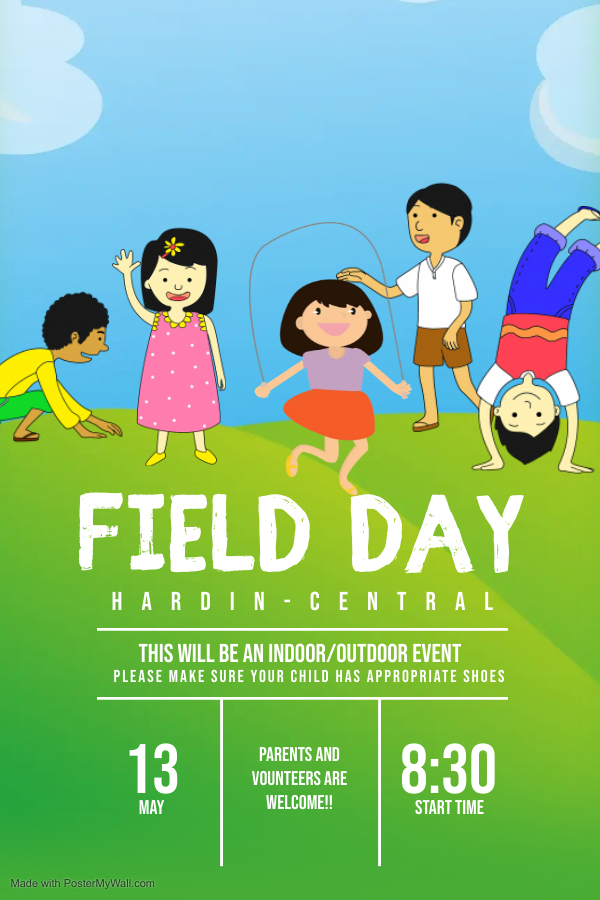 HS Track bus for District track meet leaves tomorrow morning at 6:15 am.

Timeline for tonight, 5/4: 5:30 - Current 5th/6th Grade parent meeting in cafeteria 6:00 - HS (current 8th-11th grade) Boys & Girls Basketball parent meeting in cafeteria 6:30 - Sports/Activities Banquet (sorry for any confusion on banquet start time)

There will be a parent info meeting for both HS Girls & Boys Basketball at 6:00 pm in the cafeteria prior to the Sports/Activities Banquet tomorrow night, May 4. This will be for any current 8th-11th grade Boy or Girl interested in playing HS Basketball next year. Also, reminder there will be a current 5th/6th grade student/parent meeting at 5:30 in the cafeteria tomorrow, May 4.

Lunch change for tomorrow, 5/3: Enchilada Mexican Rice Refried Beans Pineapple

Class of 2022 Graduation Dress Rehearsal will be 9:00 a.m. Friday. Seniors need to bring their caps and gowns for a group picture and the Senior Walk later that morning.

BUS CHANGE TIME for todays HS Track Meet @ Brookfield. The bus will now leave at 11:15.

📚 BOGO Book Fair! 📚 🗓 May 2 - May 6 🗓 Everything is Buy One, Get One FREE, equal or lesser value. Check FB for pics and prices. (Prices shown do not include tax but students will need extra for sales tax)

HS Track bus leaves tomorrow at 11:45. Meet in Brookfield begins at 1:30.

We are having issues with our livestream camera for the NHS Induction ceremony. We will switch over to Facebook Live for the ceremony. Sorry for the inconvenience.

We will be livestreaming the NHS Induction Ceremony tomorrow and all banquets next week. Please see below to access or download the app. Also, information for livestream is on our FB page.
www.nfhsnetwork.com/users/sign_up

The NHS Induction ceremony will be Friday, April 29th at 2:15 in the gym.

UPCOMING BANQUETS: 4/27 - Aggies Football/Cheer @ Norborne, 6:30 5/3 - FBLA/FCCLA, 6:30 (please RSVP to Mrs. Banes-Anderson) 5/4 - Activities/Athletics Banquet, 6:30 (time change) 5/5 - FFA Banquet, 6:30

JH Track tomorrow is at Santa Fe. Bus will leave at 2:30. Track meet begins at 4:00.